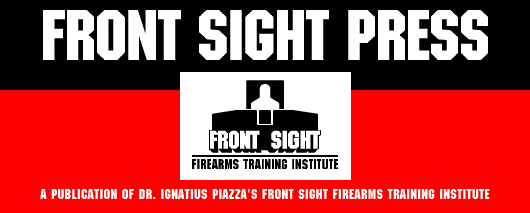 Home | Founder's Message | Monthly Report | Expert Instruction | Courses
Buddy System Pricing | New "World-Class" Facility | How Good is Good Enough?
Training Dates | Application | Newsletter | Safety/Incident Report | Solution to Littleton, CO Shooting | Other Links
---
DEDICATION
I dedicate this issue of FRONT SIGHT PRESS to those who encouraged me to push through all the barriers and obstacles I encountered in bringing Front Sight to operational status. Your constant validation of my vision to develop the finest firearms training institute in the world gave me the certainty of purpose required to outlast five years of frustrating bureaucratic delays and endless expenses.
Although you are too many in number to name here individually, rest assured I will not forget a single one of you. In time, I hope to see each of you at Front Sight to receive my personal thanks and acknowledgment for your major role in Front Sights development.
ATTITUDE
HANDGUN
SHOTGUN
RIFLE
HEAD SHOTS
FRIENDS & ENEMIES
Home | Founder's Message | Monthly Report | Expert Instruction | Courses | Buddy System Pricing | New "World-Class" Facility
How Good is Good Enough? | Training Dates | Application | Newsletter | Safety/Incident Report | Solution to Littleton, CO Shooting | Other Links
---
For more information about Front Sight please email us
Front Sight Firearms Training Institute
Copyright © 1996, 1997, 1998, 1999, Front Sight Firearms Training Institute. All rights reserved.
---
Heeled | Memberships | Miscellaneous | Newsletter | Press | Student prep | Training Reports | Website | Search